On September 7, 2023, the Osaka Central Advanced Mathematical Institute at OMU and the Faculty of Sciences at the University of Sfax, Tunisia, came together for a Memorandum of Understanding (MoU) signing ceremony regarding academic cooperation. The agreement opens the door to opportunities for staff and student exchange, joint research, and sharing of academic information and publications along with various other potential areas of collaboration.
Held at the OMU Sugimoto Campus, the event was attended by Professor Ali Baklouti, Vice President of the University of Sfax, who was welcomed by Vice President Hiroyuki Sakuragi, Vice President Toshiyuki Matsui, and professors from the Osaka Central Advanced Mathematical Institute at OMU, including Director Hiroshi Tamaru, Vice Director Hideyuki Ishi, Professor Emeritus Yoshihiro Ohnita, and Special Researcher Hidenori Fujiwara.
During the ceremony, Professor Tamaru extended his congratulations to both universities, stressing that the agreement "is the fruit of a long-standing relationship between Japanese and Tunisian mathematicians." Expressing his enthusiasm about this collaborative venture, Professor Baklouti responded, "We are absolutely delighted to commence this academic relationship with OMU, and we are looking forward to our future cooperation."
Following the signing ceremony, the attendees took part in an engaging discussion on future collaboration.
This event marks the latest development in a series of cooperative activities between the University of Sfax and OMU. Last year, Professor Baklouti met with Vice Presidents Sakuragi and Makoto Tsubota during his courtesy visit to OMU.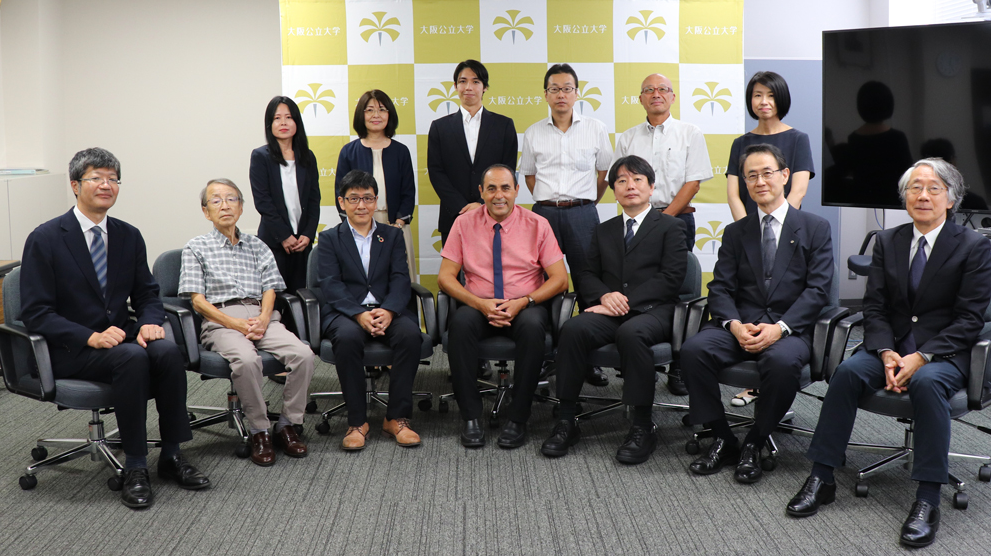 Front row from left to right: Professor Ishi, Special Researcher Fujiwara, Vice President Matsui, Professor Baklouti, Professor Tamaru, Vice President Sakuragi, and Professor Emeritus Ohnita; back row: staff members
https://www.omu.ac.jp/en/info/omu-news/entry-35076.html